TICKETS AVAILABLE AT THE DOOR
Date:
Saturday 16 April 2016,
BRIAN POSEHN (USA)
Guests: Aaron Pratt + Sam Bowden
Sorry, there are no tickets available for sale yet.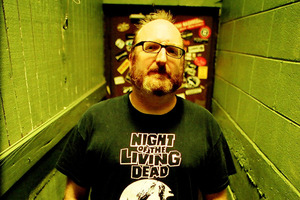 PLAYING TIMES:
Sam Bowden 9pm
Aaron Pratt 9.20pm
Brian Posehn 9.40pm til 10.40pm

With an extensive (and eclectic) career spanning 20 years, American comedian/actor/writer Brian Posehn is set to head down under in April 2016 for his first Australia tour – following a constant string of shows in the best comedy clubs and rock venues in the US.
He has cemented himself as the king of nerd humor, producing/appearing in culturally relevant podcasts, TV shows and movies throughout his career. He has co-starred in Universal's feature The Five Year Engagement and in the popular Canadian indie comedy, Lloyd the Conqueror. In recent times, Brian has made guest appearances on popular sitcoms The Big Bang Theory, Guys with Kids and Anger Management. He starred in Comedy Central's hit show, The Sarah Silverman Program for three seasons, and toured as one of the original members of Comedians of Comedy.